Reader question: Can you please help me? I'll start a big job in my home, then have to stop part way, then have a bigger mess, then I don't have time to get back to it, so the mess grows and becomes overwhelming. How do I break up big homemaking jobs into smaller homemaking jobs?
On New Year's Day this year, I felt so overwhelmed. I created an ambitious list of things to do in the next 12 months – mainly getting my life, finances, and home under control. Feeling like everything was a mess, I knew I needed to get things in order.
But how would I begin? What should I do first?
Deep down, I knew I needed to focus on small steps – a whole bunch of small steps – to make any difference.
So I began.
Tackling the worst first
In my home, I knew messes lurked everywhere. A few rooms were definite mess magnets, but besides those clutter-filled places, I noticed a lot of disorder throughout my home.
To change this problem, I jumped in with the least desirable place – my basement. And I spent a month working on it 10 to 20 minutes a day. I'd focus on one single area (a single box or storage bin), purging what I didn't need and organizing what I did need.
Days came when I didn't want to do the work – but I made myself do it anyway. At times, it seemed so overwhelming, like I would never finish the job. But I kept working my way methodically around the room.
When I needed to take a day or two off, I did – and then I'd get back to it, working on one small project at a time. Once I finished cleaning my entire basement, I felt like a weight had been lifted off of me.
When my basement was finished, I took a day off to celebrate – then started in on my next messiest room, a school room/art room/storage room. Small but filled with books and art supplies for my children, I spent another entire month sorting through every single thing in that room and putting every single thing where it needed to be. 
Yes, it took one month to slowly work through one single room.
Just like the basement, I worked 10 to 20 minutes a day on one project a day – I'd focus on one bookshelf one day, then work my way through the rest of the bookcase day by day.

Working past frustrations
During this long and methodical process, the temptation to feel overwhelmed was strong. As I watched the pile of purged belongings grow and grow and grow, I noticed I created other cleaning jobs.
Instead of fixating on the distraction of the added work, though, I kept my focus on each day's small area to clean. Yes, I was creating more work as I cleaned out certain areas and shifted belongings to other areas. But I kept working my way around a room (clockwise, from top to bottom) and tackled any project once I got to it.
By having a plan of what I wanted to clean and how I was going to clean it, I was able to focus on my plan – and do it.
It took three full months of working like this, five to six days a week, but by April 1st, my entire home had been decluttered and organized. I then was free to deep clean it – again, methodically and room by room.
Through the process, I was reminded of the importance of breaking big jobs into smaller jobs – and then focusing on getting things done little by little, bit by bit.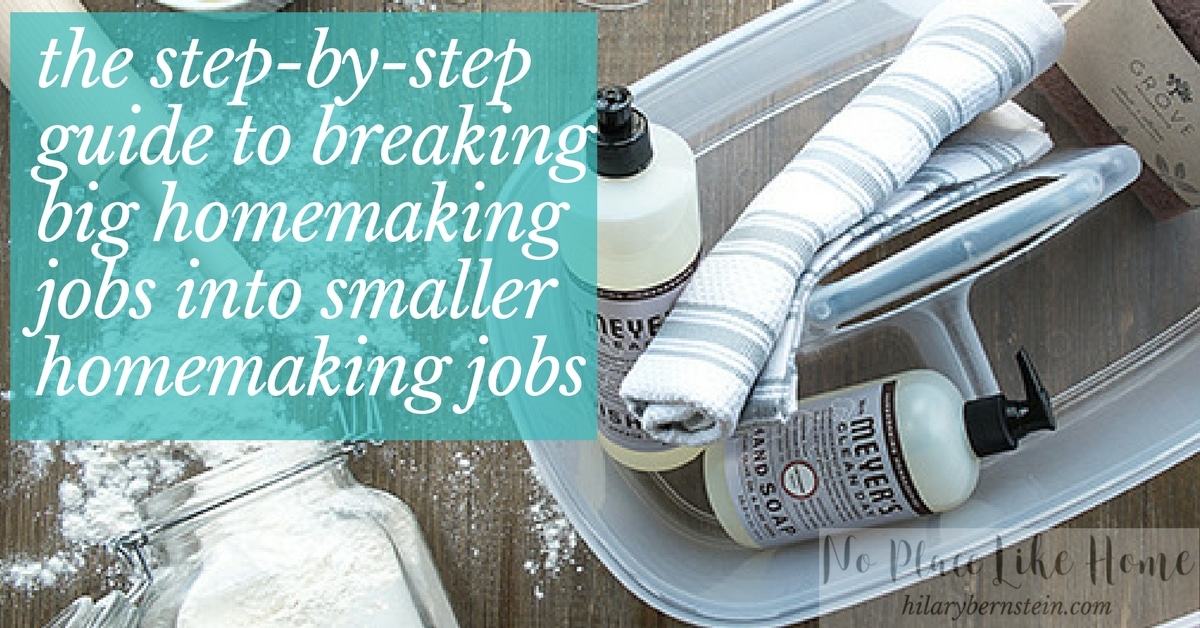 By reminding myself to forget about the distractions, I was able to tackle huge cleaning projects without feeling overwhelmed.
That was a huge homemaking success … and how I completed my New Year's resolution. It's also the Step-By-Step Guide to Breaking Big Homemaking Jobs Into Smaller Homemaking Jobs that works well!
While this cleaning process worked well for me, it may not be doable in your home. If you'd like to create your very own strategy to clean your home, I'd love to help through my eCourse, My Own Clean. Click here for details!
How do you break big homemaking jobs into smaller ones?
Disclosure: Links in this post may be affiliate links. This means that, at no added cost to you, I may make a commission on products purchased through these links. Thank you for supporting this website!
All images courtesy of Unsplash.