Feel like a homemaking failure? It's OK … you can start making changes one small step at a time.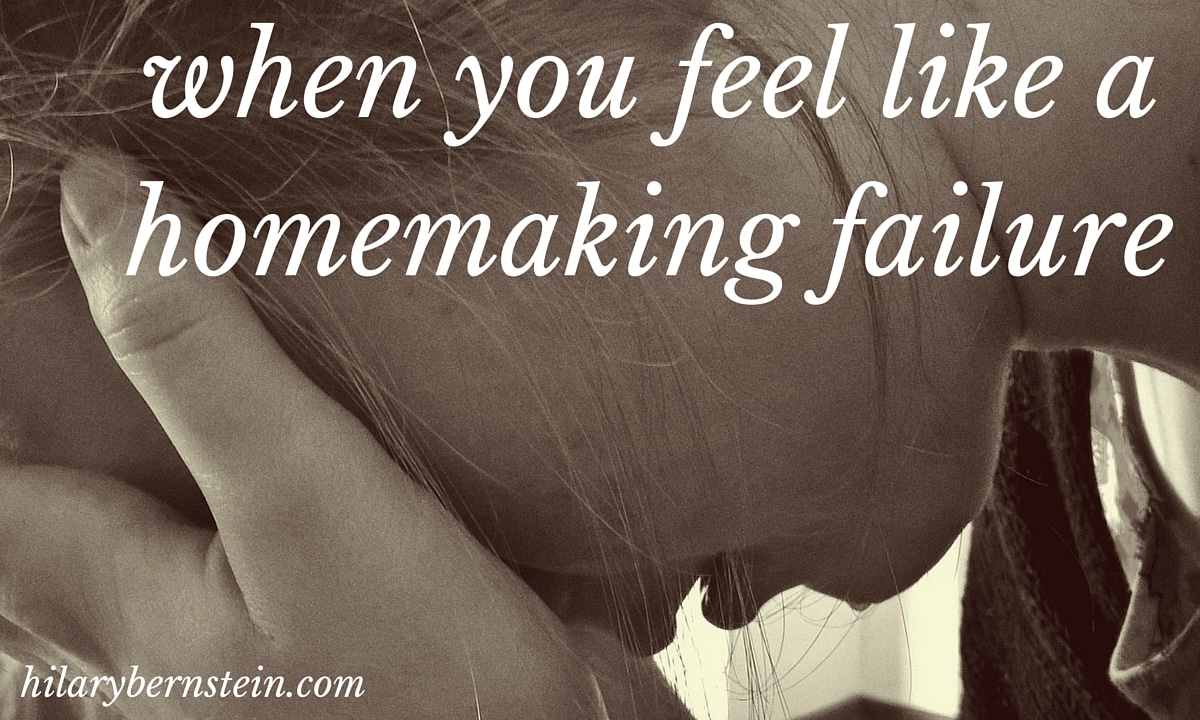 When it comes to homemaking, have you ever felt like a failure?
I have … more often than I'd care to admit.
With a Type B personality, I lack the stick-to-itiveness as a Type A homemaker. I don't have everything in my house perfectly organized. My laundry doesn't run right on schedule.
In fact, I don't even follow a schedule. (Gasp!)
I hear plenty of wives and moms talk about routines and systems, and I feel so inadequate.
My house is presentable every day, I feed my family healthy, fresh food, and I keep our dishes and laundry clean. But I just can't commit to a routine. I feel trapped when I think about systems.
When I do try to manage my day with a schedule, on paper it looks so promising! I just might be able to fit everything in, and keep my home running like a well-oiled machine.
Yet after one day of trying the schedule, it all falls apart. Life happens, my chores take longer than I plan, and I end up feeling like a failure. Again. I know I'm not a failure, but it can still feel like it.

Your need for a unique strategy
If you're in a similar situation, feeling like it's impossible to get everything together, take a deep breath. It's OK. You may go about your homemaking a little different than organized women, but really … it's OK! There is hope for the Type B homemakers of the world.
I'm a HUGE believer that every home and homemaker is unique. Because of that, all of the homemaking systems and routines you'll find online won't work in your home. Oh, sure, they may include lots of good ideas. But if you're judging your homemaking success based on them, please stop.
It's time to create your very own strategy for your very own Type B personality and your very own home.
Small steps
I am a HUGE believer in small changes making a big difference. I know they can, because I've watched it happen in my own life when it comes to healthy living.
So becoming organized? And taking control of your home? I believe it's absolutely possible one small change at a time.
After spending more than a decade of my adult life comparing myself to my born-organized mother, I rebelled and got lazy. There was no way I could possibly keep up with her organized perfection, so I gave up in trying. I'm finally realizing I can keep my home in my own way – without the burden of perfection.
The trick is knowing what I need to change … and then making the change.

Where to start              
When you want – and need – to change and embrace some kind of order, it's time to find daily duties that work for you and then turn them into habits.
To prepare, pinpoint exactly what's out of control, trackdown possible solutions, and get plans in place. 
In defense of a life without a home management binder, I don't ever remember hearing about a home management binder or system until 10 years ago. Growing up, the homemakers in my life never had them. My organized mother never did. None of my mom's stay-at-home mom friends did. Neither of my grandmothers did. These women just knew how to care for their homes, as it had been modeled to them growing up. They didn't need to read what to do next, because homemaking had become a habit.
If you're like me and know you need to change – and know you want to change – start deciding what you'd like to do now. Then start changing!

Are you with me? Do you ever feel like a homemaking failure? Are you willing to try to make small changes?
Disclosure: Purchasing items through links in this post will result in a commission for No Place Like Home. Thank you for supporting this website!
Images by Pixabay